After countless requests and demand from the nurse practitioner community, The Elite Nurse Practitioner and Candi Kinney, FNP from NP in The Know, are proud to announce the IV-Infusion Clinic Course! This course is designed for the nurse practitioner who is interested in creating a high revenue/low expense practice that can be done on a VERY part-time basis.
This course is the definitive guide for nurse practitioners who are interested in building an IV infusion therapy clinic from the ground floor. It also will teach the nurse practitioner who already owns a practice on how to integrate this into their already established one!
IV-Infusion Clinics are very hot right now. This sector of the alternative medicine industry is BLOWING UP, and for good reason. Patients are demanding this service and it results in healthy profits for the practice owner!
Do you know what one of the best parts of opening an IV-infusion clinic is for a nurse practitioner? You can make money and not even be present in the practice itself! Depending on your states regulation, an RN or LPN can be there doing the work while you make all the money sitting at home. All they need is your order! This can be a partially-passive income stream for the astute nurse practitioner entrepreneur!
This course will teach the nurse practitioner who has absolutely ZERO experience operating an IV-Infusion Clinic on the clinical aspects of this type of practice and how to open an IV "Drip" Lounge, which is what I like to call it.
This course will provide you EVERYTHING you need to know to successfully open an IV-Infusion Clinic!
You will learn:
What IV infusion therapy is.
Why you should consider offering IV-infusion therapies.
The legalities and regulations of providing IV-infusion therapy.
How to price your IV infusions.
How to setup the actual IV practice itself.
What type of supplies you need and where to get them.
What the most popular IV "cocktails" are and why you should use them.
Where to obtain the vitamins and medications that are within the "cocktail."
The recipes for various IV "cocktails."
How to chart IV-infusion therapy.
Complications to be aware of.
How to setup the actual legal business itself.
Where to obtain your malpractice policy from.
How to delegate the majority of the work to RNs, LPNs, and MAs.
How to market your IV-infusion clinic!
How to succeed and much more!
This course will include ALL the supplemental documents you need such as informed consents, intake forms, patient education, and policies and procedures. You will literally have EVERYTHING you need to start your practice. The only thing I cannot provide you is the courage to get out there and get started!
There are over 3 hours of video content where we go over a 110-slide presentation in detail. There will also be audio files for you to download so you can learn on the go while driving to work or exercising.
If you follow the information in this course, you will be able to start an IV-infusion clinic from the ground floor. How much does it cost to get started you might ask? Well, you could get this business up and running for less than $5,000! The return on investment is absolutely amazing! So what are you waiting for?
Remember, all Elite Nurse Practitioner Courses are accessible at anytime after you purchase them!
This course is being offered for only $499! The sale price for this course is cheaper than any other IV course on the market that I have found. And the best part? It is BETTER!
I have had multiple NPs message me saying this course was better than the $1,500 one they took!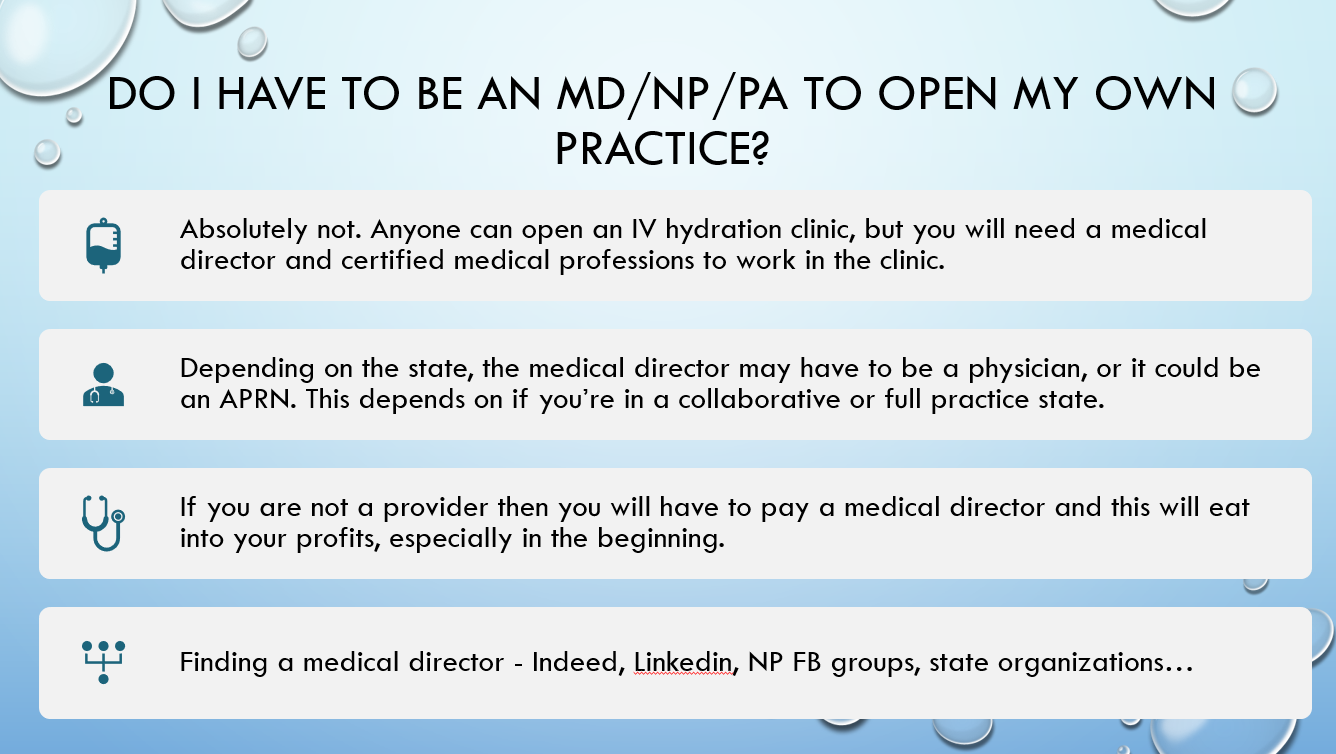 Regulations, Practice Setup, Ordering, and Supplies explained...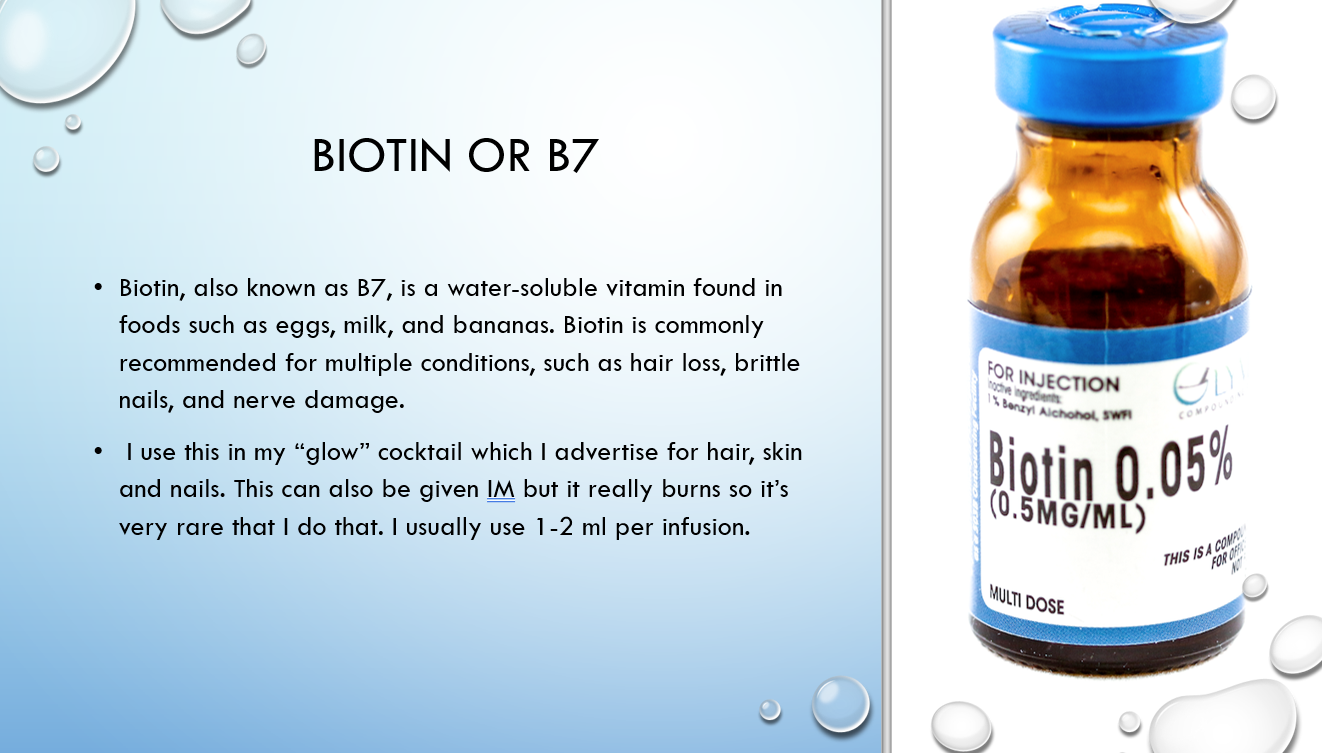 Vitamins, IV Cocktails, Procedures, Osmolarity, and Complications explained...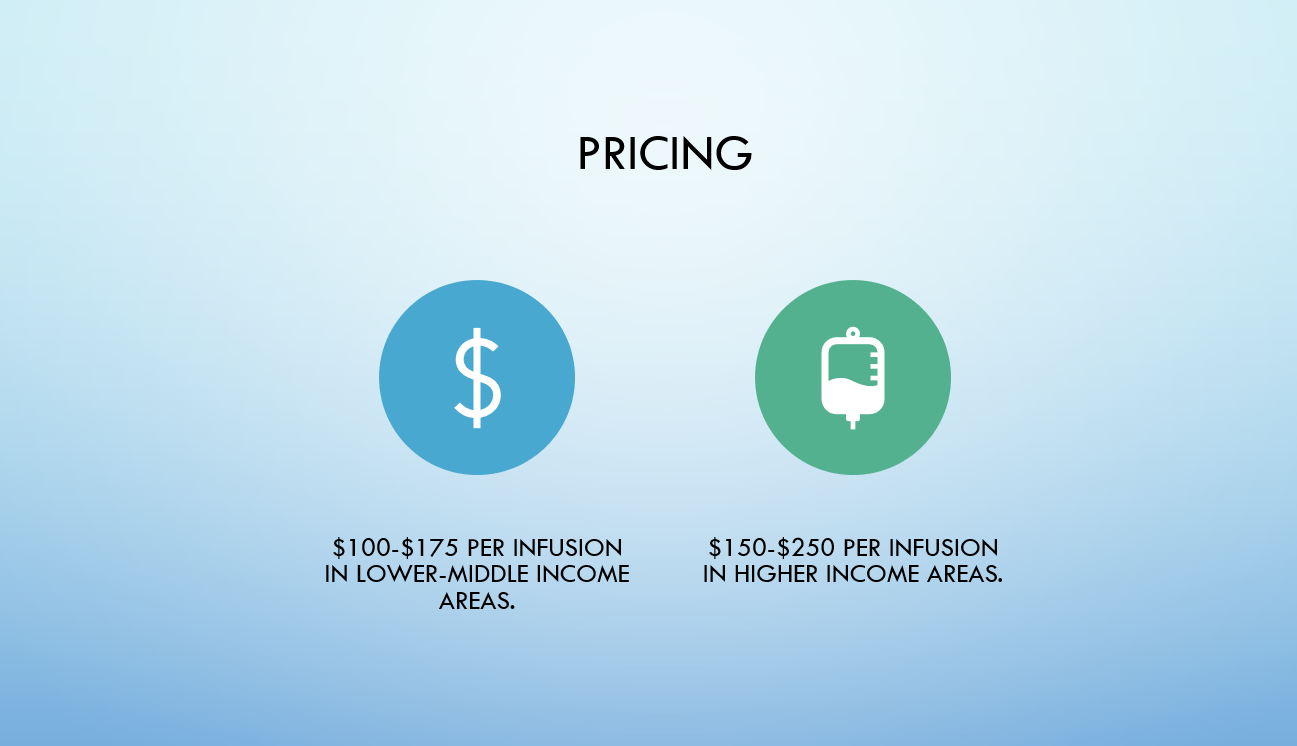 Practice Integration and Creation, Marketing, Pricing, Consents, and Malpractice explained...
Frequently Asked Questions


Will I have unlimited access to this course?
Absolutely! You can access this course however many times you want for however long you want! All Elite Nurse Practitioner Courses are pre-recorded and accessible indefinitely!
Do I have to have a specialized certification for an IV-Infusion Clinic?
It depends! Some states require certain certifications from the board of pharmacy to mix the IV bags in your practice. Otherwise, there are no specific certifications or licenses necessary to start an IV-Infusion Clinic outside of the normal licenses required by your state, such as a business license.
Will this course teach me how to start an IV-Infusion Clinic from scratch?
YES! The course goes over every aspect of starting an IV-Infusion clinic. The courses covers everything from the clinical aspects to forming an LLC! All of the consent forms, policies procedures, and documentation are also included!
Are the supplies expensive?
Not at all! You will average around $10 for each IV you start. It is very reasonable with large mark ups! What does this mean? More profit!
Will this course go over how to market an IV-Infusion Clinic?
Absolutely! You must get the word out about your clinic if you want to get busy! Word of mouth is fine, but it takes a long time for that to happen! You must market your practice if you want to grow and make money quickly!
Could I start a stand alone IV-Infusion Clinic?
Of course you could! There are hundreds of stand alone IV-Infusion Clinics throughout the country.
I already own a practice, can I just add this as a service?
Yes! If you own a med spa for example, then adding IV therapy to your service line could increase your revenue significantly!


Is having a DEA number necessary?
Nope... Nothing you are doing is utilizing a controlled substance.
Are IV-Infusions FDA approved?
Unless the individual presents with dehydration, then IV therapy for wellness purposes are not considered a medical necessity, therefore it is not FDA approved. Is it safe? Yes, but this is to enhance peoples well being more times than not.
Will this offer CME?
Unfortunately it will not. I do not think it is fair that our credentialing agencies charge upwards of $10,000 to certify medical education. If I was to do this, I would have to pass along the costs to my readers. My goal is to provide affordable products, not overpriced courses that are $1,000 or more in price.
See what others have said…
Sambo NP: I purchased an IV therapy course before this one for $1,500... I am literally angry that I did so. This course covers more and is a lot cheaper! The information is straight forward and to the point. Thanks!
Margaret Hensley: This was a great course! It covered everything from the IV therapies to marketing. Well done guys, I enjoyed this thoroughly and plan on implementing this into my Med-Spa!
William Schwarz FNP: Great resource for anyone interested in starting an IV clinic. I have been on the fence about starting one for 2 years and this course really simplified the process. Now it is time to get started. I loved this, thank you!
Heather D. FNP: I have my botox license and I am doing ok seeing aesthetic patients, but I have wanted to add an additional service to my small practice. This course covered everything I needed to know to start IV infusions. Thanks for a reasonably priced course, I did not want to spend $1k for another one.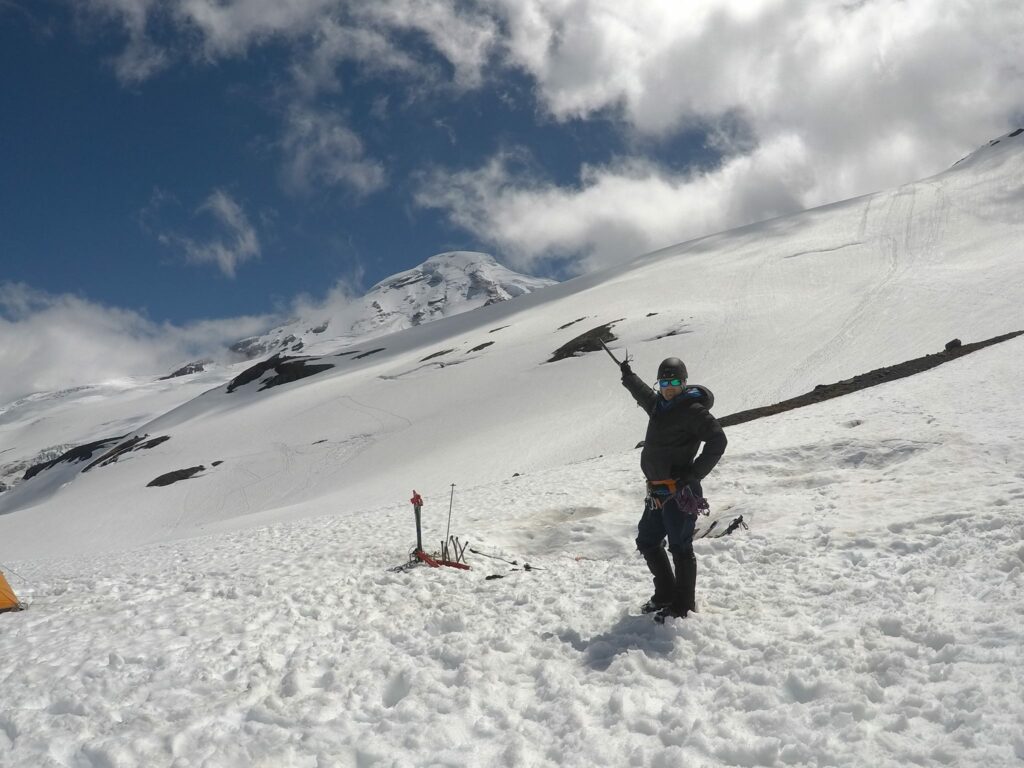 Hi, I'm Justin Allan MSN FNP
I am the owner and author of The Elite Nurse Practitioner, one of the hottest blogs for nurse practitioners who want to break free from the shackles of modern healthcare.
I have been practicing as an NP for 7 years. I have worked all over the country and in many different settings. I became sick of working for others and not earning what I knew what was possible and fair. So I decided to venture out on my own.
I now own multiple successful side practices and businesses as an NP. My goal is to share the knowledge I have learned and developed to my fellow NP colleagues so you can reach a level of success that very few NPs will ever achieve. It is possible to build profitable practices and businesses as a nurse practitioner!
Follow me at www.elitenp.com!
Interested in learning more? Check out the rest of The Elite Nurse Practitioner course line up!
Interested in bundling some courses? Shoot me an email at [email protected]!